Keep Loudoun Beautiful Area Leaders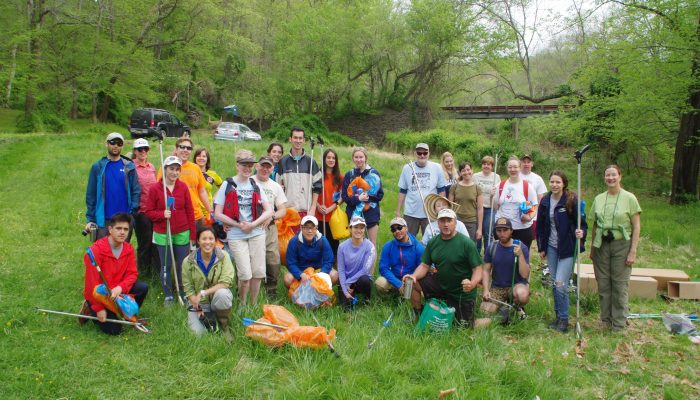 Being a KLB area leader is a great way to get involved in your community and keep your neighborhood streets and open spaces free of litter. As a KLB area leader, these will be your main responsibilities:
To assist Keep Loudoun Beautiful (KLB) by coordinating the cleanup of locations in their responsible area

Monitor the roads and report any extremely littered areas and illegal dumps

Recruiting volunteers, overseeing clean up activities and reporting results using our online form

While needed throughout the year, a special emphasis on cleanup activities in Spring and Fall is encourage. 
Area Leaders are always needed and areas may have more than one leader. To find out more and/or become an area leader, please email us at alicia@keeploudounbeautiful.org.

Our Promise to KLB Area Leaders
We are volunteers organizing volunteers to keep Loudoun and our planet beautiful. For almost 50 years, we have gotten the know-how of cleanups and will do our best to help you keeping your area clean and healthy for you, your family, and wildlife. We can also help you get volunteers in case you need them!
Every year, we organize an Area Leader's luncheon in appreciation of all your hard work along the year.  We also provide (at NO COST FOR YOU) all supplies you will need for your cleanups. 
Becoming a KLB Area Leader is a very rewarding activity and a great opportunity to give back to your community and our beloved planet. We are waiting for you to join! If you have any question or comments, we would be happy to hear from you at: alicia@keeploudounbeautiful.org
KLB Area Leaders (AKA Our Hero Leaders :D)
We rely on volunteers to be vigilant all around the county. We are specially in need of volunteers covering new urbanized areas or areas without any volunteers. If taking care of our planet is a cause close to your heart, please don't hesitate in joining us. Our planet has taken care of us for a long time…It's time to return the favor!
Aldie:  Eboni Brown

 

Aldie Village: Katie Johnson

Aldie – Willowsford – The Greens:

Aldie – Willowsford – The Grove:

Arcola:  Carrie-Anne Mosley
Ashburn – Ashburn Farm:  Mariella Calderon
Ashburn – Ashburn Village:  Brenda MacEoin
Ashburn – Brambleton:  Richard Stone

 

Ashburn – Broadlands:  Diana Weber
Ashburn – Broadlands – High School:  Jaya Sharma
Ashburn – Goose Creek Village: 
Ashburn- 3 Loudoun schools-

Jimmy Do 

Ashburn – Potomac Farms: Carol Barbe

Ashburn – Willowsford – The Grange:

Ashburn – Willowsford – The Grant:

Belmont:  Brian Pancia
Bloomfield:  Flora Hillman & Owen Snyder

 

Bluemont:  Peter Weeks

Hamilton-North:

Diane Blue

Hamilton- Waterford Creek- Heidi Bickart
Hillsboro:  Judy Klinedinst

&

Patric Copeland



Hillsboro Town:  Paul Hrebenak
Lansdowne-Potomac Station: Diana Connor  

Leesburg – Creighton Farms:  Griff Harrison
Leesburg – Evergreen Mills:  Randy Duncan
Leesburg – Historic Selma Estates:  Alicia Groncki

Leesburg – Red Rocks:

Acadia Keyes

Leesburg – NW:

Leesburg – Old Waterford Road:  DeAnna Burke
Leesburg – SE – Heritage:  Chad T. Green
Leesburg – SW – Woodburn:  Darrell Haines and Erin Bartlett
Leesburg – Town:  Jennifer Chu
Leesburg – Red Cedar: Lauren White
Lenah:  
Lincoln:  Dave Testa
Lovettsville: Town– 
Lovettsville: Outside of town– Kim Sanborn
Lucketts – East:  Beth McClain

Lucketts – West:  Barbara Scott
Middleburg:  Rebecca Poston
Morrisonville:  Sandy Simmer

 

Mt. Gilead:  Amy Orr

 

Neersville:  
North Fork:  Jim Cross
Paeonian Springs:  Gus Kearney

Philomont:

Potomac Falls – Cascades:  Richard Woodrum
Potomac Falls – Countryside HOA:  Erin Gilmore
Potomac Falls – Lowes Island:  

Purcellville:  

Matt Shaffer

Purcellville – Town:  Clay Grisius

Round Hill:  Dave Ferguson

 

Silcott Springs:  Linda Treese

 

South Riding – North:  Eboni Brown

 

South Riding – South:  Carrie-Anne Mosley
Sterling – Broad Run Farms:  Mary Holsinger
Sterling – Cardinal Glen:  Matt and Debra Bressler


Sterling – Oak Grove:

Sterling – Richland Acres:

Sterling – River Crest:  Lily Egenrieder

Sterling – Seneca Ridge:

Sterling – Sterling Park:  Kevin Chroninger
Sterling – Sugarland Run:  Jimmy O'Connor
Taylorstown:  Tami Carlow
Unison:  Lucy Bernstein
Waterford:  Nick Ratcliffe

 

Waterford – Waterford Heights/Browns Lane:  Liz Hohm
Willisville:  Flora Hillman & Owen Snyder
Willisville/Unison:  Jean Perin