We believe in the shared responsibility to build and maintain clean, green, healthy and beautiful spaces for our families and generations to come. This is why we do what we do, and why we invite committed people like you to participate in our activities and support our programs.
There are many ways to support Keep Loudoun Beautiful! If you are interested in volunteering in Northern Virginia, look no further! We organize events spring and fall that support environmental conservation in Loudoun County. Are you looking to donate to a Loudoun County Nonprofit? You can contribute here!
---
Our Mission

:

Keep Loudoun Beautiful is a local nonprofit headquartered in Loudoun County, Virginia. Our mission is to maintain a safe, clean, and healthy environment in Loudoun through educational outreach, litter prevention, and cleanups. Our efforts include:
Encouraging and educating citizens to keep Loudoun beautiful

Promoting public awareness of environmental challenges and common-sense solutions, like Reducing, Reusing, and Recycling

Improving county trash disposal and eliminating illegal dumping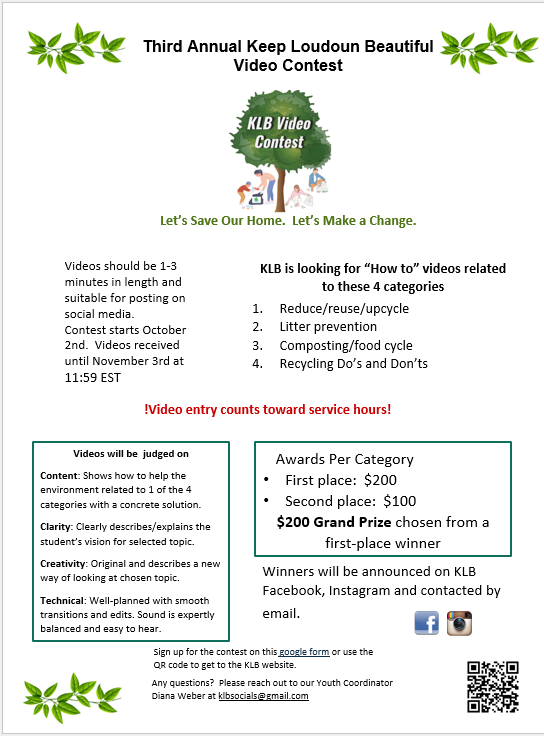 3rd annual Student Video Contest!
We are looking for usable content for public awareness of the issues affecting our environment and your video submission can become a cash winner!
Submit a 1 to 3 minute video on "How to":
Reduce/Reuse/upcycle
Litter Prevention
Composting/Food Cycle
Recycling Do's and Don'ts
You will receive credit toward service hours.
There will be a $200 first place winner and a $100 second place winner IN EACH CATEGORY. One of the first place winners will also win an additional $200 for the best overall video.
Details
Contest begins October 2th, 2023
Deadline for submissions is November 3rd, 2023 by 11:59 p.m. ET.
We will not accept late entries so make sure to plan ahead
Must be a LCPS 8th-12th grade student or LC HomeSchooler
Winners will be chosen and announced on Tuesday November 14th on our KLB social media channels. Make sure you follow us!
Ig: @beautifuloudoun
You will be emailed if your video is selected for a cash prize.
Thank you for your interest in Keep Loudoun Beautiful's (KLB) 3rd annual Video Contest! We'll use these videos as content to inspire others to take care of our environment, so thank you for participating!
click here for more details and info on how to submit your video entry.
https://docs.google.com/forms/d/1UoM4YwDCCG85Ofwr4-MSs1LzAqT4k0bQ60h1gMIOkGk/edit
Good luck and have fun!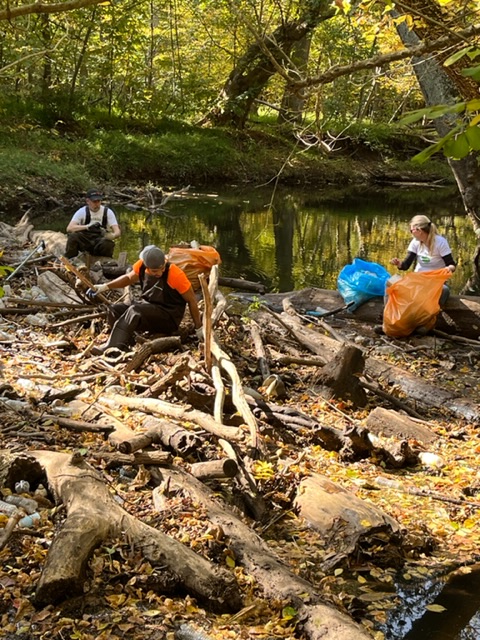 Our Annual Trash Bash in Sterling will be October 15th. Registration now open:
Annual KLB Fall Trash Bash clean up around the Cascades area and Sugarland Run flood plain.
When: Sunday October 15th, 2023 starting at 12:30 pm.
Where: We'll be meeting at the Quarterpath Trace Community Center, at 20430 Quarterpath Trace Circle, Sterling, which is at the intersection of Algonkian Pkwy and Quarterpath Trace Circle. Restrooms will be available at the Quarterpath Trace Community Center.
We require registration for everyone who'd like to participate. We are trying to assign areas beforehand to be more prepared and help things move smoother.
We will provide safety vests, gloves, bags, grabbers, fruit, granola bars and water. Please remember to bring your own reusable water bottle! In line with our mission, this will be a "plastic bottle-free zone".
SCOUT TROOPS – We have KLB patches for the Scouts! Please indicate in the sign up your troop number, age of kids, and the number of kids and adults participating. Please just have the leader fill out 1 registration for whole troop.
REUSE YOUR T-SHIRTS FROM PRIOR YEARS
In an effort to reduce our ecological footprint, we are not printing new t-shirts. But we will have new/never used t-shirts from past years that you may take. We do encourage you to wear your KLB t-shirt from previous events you have attended.
SNEAKER COLLECTION:
We will also be collecting sneakers/cleats (only rubber) (no other shoe type) for our GotSneakers fundraising program. Sizes 3.5 and higher are accepted.
HELP US FIND MORE LOCATIONS TO CLEAN:
If you have seen litter in the Cascades area (park, roadway, school, anything) that is in need of folks to clean up, please email alicia@keeploudounbeautiful.org and report it so we can add it to our list of areas to clean up.
COMMUNITY SERVICE HOURS:
Since the Cascades Trash Bash is a community service event, it qualifies for community service hours for your school, scout troop, or other organization. Just be sure to bring your forms for us to sign

Register here:
https://www.signupgenius.com/go/5080D4DA4A82DA7FB6-annual1
---
Green Tips for everyday life
Loudoun County's beauty is not simply in the eye of the beholder…It's in our hands as well. Here you will find simple ideas you can adopt that will help you to reduce your ecological footprint everyday.